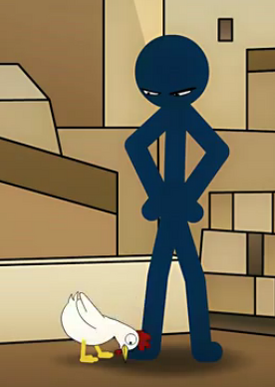 Strikers Rampage is a spin off animation by WX. It mainly focuses on
Striker
killing all terrorists (except Hacker).
At the beginning of the amimation, Striker has flashbacks of how he is always the first to die. This time however, he is determined to win. After loading his weapons, he throws a smoke greanade at the door, blocking Camper's vision, and Striker kills Newbie. FD God sends Killer and Lagger to guard the door, but both are blinded by a flash grenade, and Striker performes a double kill. After killing FD God, he stabs Dumbass with a knife, and finally kills Camper, winning the rampage achievment. The moment however, is cut short when Hacker, in his chicken form, is seen pecking at Striker's foot, so he kicks Hacker and starts to walk away. Hacker however, is angered, and after causing Striker to turn around, spawnes several firarms. The animation ends with Striker screaming "Oooh SHAYT!" then the screen shows with the words : "Chicken Wins" appears on the ending screen of the animation.
Original Ending
Edit
The original ending started at the scene where Striker was laughing, but he was dreaming, it was the beginning of the game, and a poorly drawn stick terrorist (usually presumed to be Camper) has found him. Striker then says "Oh Zaym" butts
before he could say "Zaym" the words MOAB appear on the screen, indicating Striker got a 25 kill streak
Ad blocker interference detected!
Wikia is a free-to-use site that makes money from advertising. We have a modified experience for viewers using ad blockers

Wikia is not accessible if you've made further modifications. Remove the custom ad blocker rule(s) and the page will load as expected.